An employer's guide to furlough ending
We would be lying to you if we said this was the first blog we had written on furlough ending. On 20 March 2020, the government officially announced the new scheme in the midst of the pandemic and the scheme has been extended four times, causing much confusion. The government says 11.6 million jobs have been supported by the scheme.
Alas, as the government now announces the easing of restrictions and normality is in sight we finally see the end of the furlough scheme on 30 September 2021. In this article, we will discuss what furlough ending will mean for businesses.
For the final two months of the furlough scheme (August and September 2021), businesses need to pay up to 20% of their employee's wages whilst still reclaiming up to 60% back from the government. With this increase and making furlough more expensive, it encourages businesses to take workers back full-time if they can. However, this could also have an adverse effect as we predict a rise in redundancies due to businesses realising they can't bring staff back by 30 September 2021.
The increase in redundancies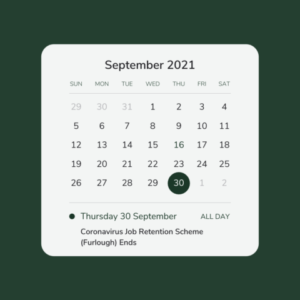 Each business has had its own challenges throughout the pandemic and some have been hit harder than others. Furlough came at a perfect time for businesses that would have otherwise lost their employees. However, the challenge isn't over. As of 30 June 2021, HMRC statistics show that there were 540,000 employers with 1.9 million staff still on furlough. Although this is a steady decrease in figures since the peak, 1.9 million employees will have to be taken off the scheme on 30 September 2021.
This leaves a decision for employers to either: bring their staff back (if they can); or make them redundant.
Employment Law Solutions offer two how-to-guides on redundancies for employers, discussing the 7 steps in how to make a stand-alone redundancy for an employee with over 2 years of service.
The transition out of furlough
For businesses that are looking at bringing their staff back to the workplace, we predict there to be some grievances with staff not wanting to return either to the workplace or want to work both from home and the workplace.
There are reasonable options that employers can offer if they are deemed suitable for the business, such as, hybrid working. Hybrid working is a type of flexible working that allows employees to split their time between traditional office and home working. Alternatively, if hybrid working is not offered by the business, an employee can submit a flexible working request to request.
However, if the employee is refusing to return to work altogether then businesses may be forced to consider options up to and including dismissal.  Dismissal for refusing to return to the workplace will not be a redundancy so will be cheaper for businesses but it comes with enhanced risks.  Businesses must ensure that they are not dismissing an employee who is refusing to work due to health and safety concerns and we must stress that proper advice is taken before dismissal.

Annual leave and furlough: time is running out
If you are planning on having all your staff back in the office in October but haven't ensured that their annual leave has been used, you could be faced with a backlog of staff who want to take their annual leave. Whilst employees are on furlough, employers are able to reclaim up to 60%of their holiday pay.
Employers can force staff to take annual leave by serving notice which is double the duration of the leave.  There may be implications in terms of staff morale if a business forced all leave to be taken when it suited them but employers can certainly request that some is taken and reclaim the cost through the furlough scheme.  There may be legal challenges to this in the future but at the time of writing, it is viable.
Furlough tribunal claims
Businesses should also be aware that whilst the furlough scheme remains in place (until 30 September 2021) they should avoid making redundancies.
In a recent employment tribunal case, Mhindurwa v Lovingangels Care it was held that employers have a duty to actively consider furlough when making someone redundant, and the absence of a reasonable explanation for not furloughing made the dismissal unfair.
If you are a business owner and are worried about:
How you are going to pay your staff when furlough ends on 30 September;
How to make staff redundant;
When to make staff redundant;
A back-log of annual leave
Staff refusing to return to the office;
Implementing hybrid working;
Talk to us!  We have the answers and no problem is a problem for us.  All initial consultations are confidential and free of charge… plus we have some awesome How-To Guides for employers only, free of charge!